The best smartphone of 2020: 15 top mobile phones tested and ranked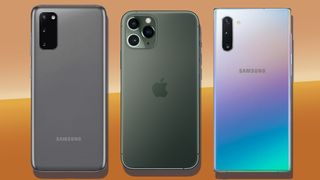 A selection of the best smartphones right now (Image credit: Samsung, Apple)
1. SAMSUNG GALAXY S20 / S20 PLUS: THE BEST SMARTPHONE
Are you looking for a new phone? Our best smartphone list is here to show you the top 15 devices you can buy right now. If you already have your mobile OS allegiance set, you may want to check out either our ranking of the best Android phones or best iPhones.
If what's on offer in our best smartphone list is a little too pricey for your taste, then don't fear, as we've also got a list of the best cheap smartphones available right now.
BEST SMARTPHONES BY BRAND
Samsung phones
OnePlus phones
Pixel phones
LG phones
Motorola phones
Nokia phones
Sony phones
Huawei phones
2020 has seen an almost complete overhaul of this list with brand new devices entering the top 15 including the Samsung Galaxy S20, OnePlus 8 Pro, iPhone SE and, most recently, the introduction of the Galaxy Note 20 Ultra.
This list may soon change ever further. There's the Samsung Galaxy Note 20 still to be fully reviewed, as well as rumors of the whole iPhone 12 range, OnePlus 8T and Google Pixel 5 that may land before the end of the year.
We know that it's not all about the high-cost, super spec phones all the time so we've made you a handy list of all the top smartphones that you can get on the market right now, assessing what really matters to you.
We test these phones rigorously through our review process, making sure that we check every angle and feature – but most importantly, considering whether they've got a decent battery, great screen, strong design and a cracking camera.
Then, perhaps most importantly, we consider the price too. Not everyone can afford (or even wants) a supercar-like handset in their pocket at all times, so we've ensured to give you a full ranking.
Want to know the best part of this list for you? Our best phone list has never looked better. Let's get started on our list of the top 15 handsets. You can see them quickly below, and then we're set to talk you through the very best phone in the world right now. What could it be?
Best phone at a glance:
Samsung Galaxy S20 / S20 Plus
OnePlus 8 Pro
iPhone 11 Pro / 11 Pro Max
Oppo Find X2 Pro
Samsung Galaxy Note 20 Ultra
iPhone 11
Motorola Edge Plus
Xiaomi Mi Note 10
Samsung Galaxy S20 Ultra
Samsung Galaxy Note 10 Plus
OnePlus 8
Google Pixel 4 XL
Sony Xperia 1 II
Samsung Galaxy S10 / S10 Plus
The Samsung Galaxy S20 is the best smartphone available right now. That covers both the S20 and the larger Galaxy S20 Plus, as there's very little difference between the two handsets aside from size and a couple of specs.
They take the very best of what's on the smartphone market and put it together in a compelling package that we loved testing.
Screen: Both these devices have phone screens that are a cut above the rest, and each is capable of a 120Hz refresh rate that will allow for far smoother scrolling and gameplay on your phone's screen.
Battery life: The battery life on the Galaxy S20 and Galaxy S20 Plus isn't the best we've ever seen on a smartphone, but larger batteries than the S10 series allow these devices to last longer and it'll be enough for your day.
Both devices come with wireless charging, and there's also a Reverse Power Share feature that allows you to top up your friend's phone too.
Camera: Samsung has improved the camera suite on the Galaxy S20 devices compared to the Galaxy S10. It may not look far better on paper, but larger pixels and improved software adds to the flagship experience.
Mini verdict: The S20 and S20 Plus are packed full of the best Samsung has to offer, and it comes together to give you the best smartphone experience around right now. If we had to pick one, we'd go for the bigger screen, larger battery slightly improved rear camera of the Galaxy S20 Plus, but both phones deserve their best phone crown.